Our Products
Working alongside leading Australian and international companies over several decades, Boss Polymer manufacture a wide range of rubber and plastic profiles for the civil engineering industry. With clients as partners, the team at Boss have solved a range of issues, from expansion joint systems, weatherproofing and noise reduction, to developing aesthetically appealing solutions for high profile projects.
Our engineering expertise and skill in polymer chemistry allows us to advise you on the most appropriate polymer selection and design to suit your particular application. We can assist you or your architects, from concept to reality, tailoring solutions to meet your unique requirements.
Expansion Joints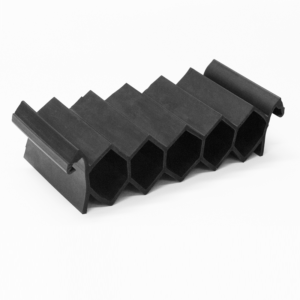 Boss provide a comprehensive range of expansion joints for both small and large movement applications. Applications include bridges, highways, car parks, plaza decks and pedestrian bridges.
Waterproof Joint Systems
For many historical buildings or buildings with special architectural characteristics, standard waterproofing systems cannot be installed. This is due to aesthetic concerns and/or design limitations. In such cases, Boss will collaborate with your designers, engineers and quality experts to bring your design concept to reality.
Industrial Structures Seals
Over the years Boss specialists have collaborated closely with leading architects and construction companies to design and manufacture high quality rubber and plastic seals. Working with our clients designers, engineers and quality experts, the team at Boss have produced systems that meet the client's most demanding requirements.
Glazing Rubbers
Boss offer a complete range of glazing products, including glazing wedges, glazing window and door seals. Glazing systems for buses, trams, trains and automobiles are also supplied or can be custom made to suit your unique requirements.
Mouldings
Boss Polymer offer custom moulding facilities to manufacture products to your own unique design and specification. Alternatively we have the expertise to provide advice in relation to the best design for your application.
Weather Seals
Our weather seals and strips can be fitted to internal and external openings, to provide a physical barrier of insulation to unwanted air flows. Profiles can be custom designed in terms of both shape and physical characteristics of the material to suit your individual needs.
Noise Barrier Gasket
Boss provides customers with the freedom of selecting the right noise wall or facade gasket for their particular application, in terms of cost, design and aesthetics. Boss will collaborate with your designers, engineers and quality experts to bring your design concept to reality.
P Seals
Boss Polymer offer a broad range of P seals in both rubber and plastics. Boss are happy to provide off the shelf P seals to customs buying in volume or to develop custom products to suit your requirements.