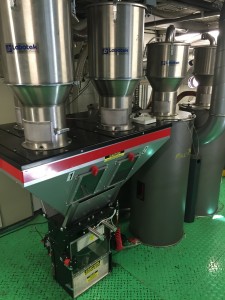 It's been a solid year of improvements for Boss Solar, including new operational processes, computer systems, a new website, pallet wrapper and a whole new range of solar pool heating products.
To continue their commitment to investing in R & D and state of the art equipment, the team at Boss have developed and purchased a new and improved materials handling system; the Gravimetric System. This system automates the mixing and blending of compounds at the point of manufacture, offering Boss and our clients many advantages, including:
Higher Precision
Advanced Occupational Health and Safety
Greater efficiency and effectiveness
Latest Internet Technology
Computerised Readouts on material consumption
The new system will improve OH & S on the factory floor, as operators will be able to safely, quickly and easily move and load required materials. To increase timeliness and accuracy, all materials that are likely to be used are now located in close proximity to the extruder. Additionally, each compound has its own dedicated material hopper, dryer and downstream equipment.
Programs have been created for specific runs, controlling compounds with greater precision. This intelligent new system and Boss Solars commitment to R&D and state of the art equipment results in a continuously evolving, world class manufacturing facility capable of offering you the latest in technological advancements, providing our customers with a competitive edge. These advances are set to improve our products, turnover times and overall customer satisfaction levels.
If you're interested in finding out more about this story, or any other topic, please send us an email at [email protected] or give us a call on (03) 9561 2777.